BLACK BOX REVEALS EVIL INTENTIONS IN ALPS CRASH!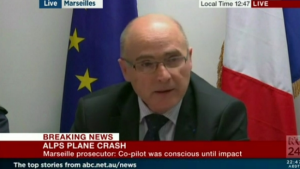 A French prosecutor has analyzed a black box recording from the Germanwings autobus and has found criminal intent as the reason for the crash.
European officials were aware of a drastic drop in altitude of the plane, yet were unaware as to why. An official narrative of what occurred was released by French officials who say that the pilot is heard leaving the cockpit with the autopilot on. Shortly after leaving the cockpit with its post 9/11 door-locks, the autopilot is turned-off. The heavy breathing of the young 28 year old German co-pilot can be heard as he manually causes the plane to descend at a rapid-rate.
The horror of the pilot can be heard as he bangs on the door of the cockpit in an attempt to re-enter.
Officials do not think it is text-book terrorism but suspect the foul-play of a disturbed individual.
150 people died in the crash. The dead include two small children.