Dozens of Dinosaur Eggs discovered During Road Construction Workers in Chinese city
HEYUAN CITY, CHINA (CNN) –
A Chinese city that boasts the largest number of dinosaur eggs in the world has added a new batch to its collection.
Officials said construction workers unearthed 43 fossilized dinosaur eggs during road repair work
in Heyuan City Sunday.
In 2004, the city won a Guinness World Record
for the world's largest collection of dinosaur eggs at its museum.
A museum spokesperson said 19 of the new eggs are completely intact, with the largest measuring as much as five inches in diameter.
Researchers said they will continue to examine the fossils to determine which dinosaur species
laid them.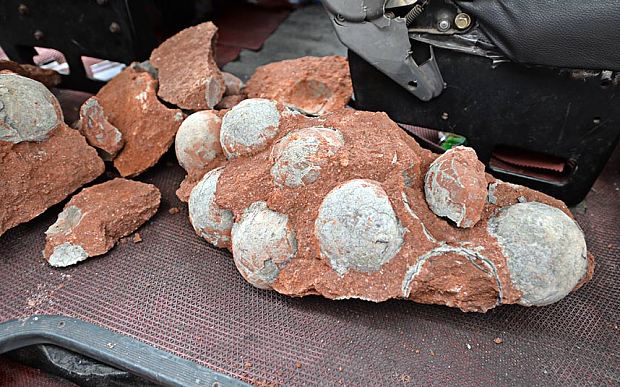 This is so awesome!  Maybe scientists can extract dino DNA from the fossilized Eggs, and create a Real Life Dinosaur like in Jurassic Park.