Happy Birthday Ewan McGregor!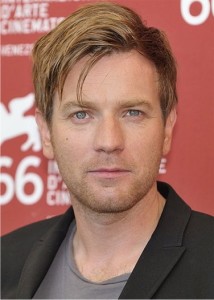 Star of Trainspotting (1996) and Star Wars films Ewan McGregor turns 44 today. McGregor was born in Peth, Scotalnd.
McGregor appeared in several BBC production before  first gaining  international attention for his role as the heroin-filled junkie in "Mark Renton" in Danny Boyle's Trainspotting (1996)
McGregor played Obi Wan Kenobi in the Star Wars prequel trilogy from 1999 to 2005. The role was first made famous by the late Sir Alec Guiness. McGregor was said to haven taken great care in capturing the later actor's mannerisms and he did, deftly performing a spot-on Alec Guinness-impression throughout the entire three films.
McGregor is an avid motorcycle enthusiast and humanitarian in addiction to being an accomplished actor. Check-out McGregor in one of his latest projects as he plays both Satan & Jesus in Last Days in the Desert (2015).