NASA will Send Flying Saucer to Mars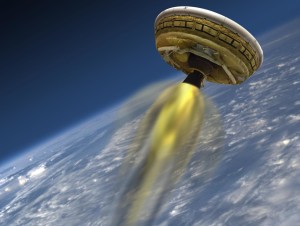 NASA is "flipping the script" as it were. After decades of tales and films depicting little green men in flying saucers from Mars; NASA is sending a UFO of their own to the red planet.
Known colloquially as  the Hypercone, the low-density supersonic decelerator or LDSD is a  saucer-parachute combo which will allow for safer and more efficient deliveries of cargo to survive atmospheric reentry and land gently on the surface of the planet.