WRESTLEMANIA: 30 YEARS OF OVER THE TOP MAYHEM!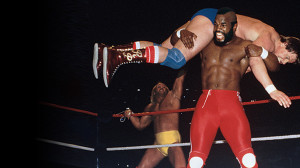 Live theater will always be popular. Sure there is CGI and "reality" TV to entertain us, but nothing compares to being front and center of a live event and that is why professional wrestling has stood the test of time and can still be found entertaining live and home viewers alike. The characters that inhabit the world of professional wrestling and their high-flying acts of aerial violence still manage to draw crowds even despite the competition from  mixed martial arts franchises like the UFC.
Back in 1985 when wrestling was in its heyday, WrestleMania first aired. The main event featured a team-up of Hulk Hogan & Mr. T. vs Roddy Piper & Paul Orndorff. The event was  viewed by over one million fans on closed circuit television, making it the most viewed event of its kind.
Thirty years later the WWE is still airing their WrestleMania. Their 31st event airing on their own pay-per-view channel. The channel has 1.3 million subscribers, all paying $10 bucks a month for the service. Despite the number of subscribers jumping up 31% from last year, WWE stocks plummeted after WrestleMania 31 aired much to the dismay of former billionaire Vince McMahon, owner of the franchise.